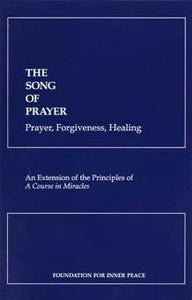 Foundation for Inner Peace
The Song of Prayer Supplement
Regular price
$9.00
$0.00
Shipping Calculated at Checkout
The "Song of Prayer" supplement is an Extension of the Principles of A Course in Miracles.
Taken down by Helen Schucman in the same manner as A Course in Miracles, this twenty-two page booklet discusses forgiveness and healing in the context of prayer, contrasting the meaning of true prayer, forgiveness, and healing with their opposites. The process of prayer is described in the booklet as "growth in forgiveness," with healing seen as the effect of the mind's undoing of the belief in separation.
Please note: We are not able to offer shipping outside of the United States.
---
More from this collection